Five Big Wedding Cake Trends for 2019
Posted on
In this post I am going to look at some of the big trends that I have seen emerging in wedding cake design in 2019. I specialise in bespoke, unique wedding cakes so I don't like to follow trends too slavishly in my work but I still think that it is really important to stay on top of them as they will often influence the ideas that my couples bring to the table.
So without further ado here are my predictions for trends we are going to see emerging or developing this year.
Trend Number One
Movement and fluidity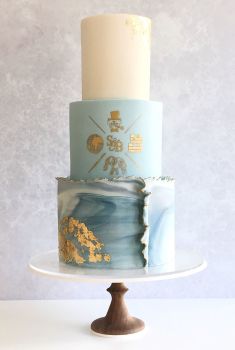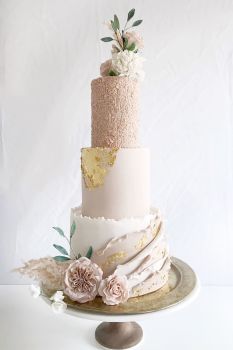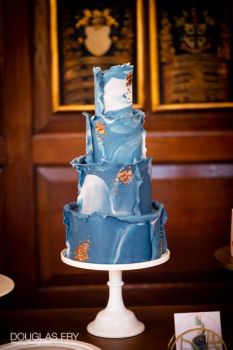 When I first started making wedding cakes back in 2005, I was taught to achieve a soft curve to the top edge of each tier. Cut to 2015, when I started my own business, and the industry was all about a super sharp edge on a nice tall tier. In 2018 we started to see torn edges and silhouettes with movement and flow to them appearing. Cake makers began to play with a deckle edge (which is a term usually applied to the rough edge of handmade paper and is used a lot in stationary) and wrapping cakes in fondant in an organic way. In 2019 there is a growing trend towards softening edges and adding fluidity in the decoration.
I love this trend and it is certainly one that I have been experimenting with. I have spent a long time getting my edges super sharp but it feels very freeing to start to be more organic and less structured in how I finish my cakes. In the cakes above, I blended the sharp with looser, more organic forms.
Trend Number Two
Inspiration from the natural world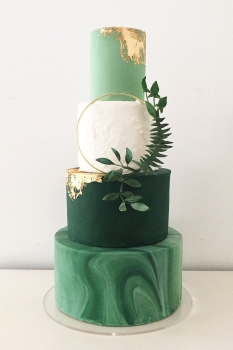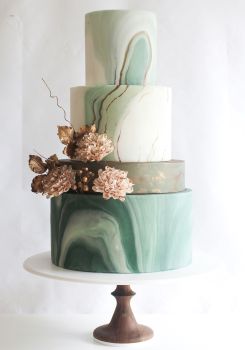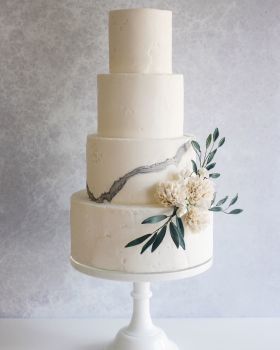 This trend is not new. Sugar flowers are a mainstay of cake decorating and marble cakes have been on the scene for a while but whilst sugar foliage on cakes will stay popular this year, I think we are seeing a less sanitised take on the natural world than we might have seen in the past. Metallics are tarnished rather than sparkling. Stone is cracked and textural.
Trend Number Three
Nudes, burgundy and spice tones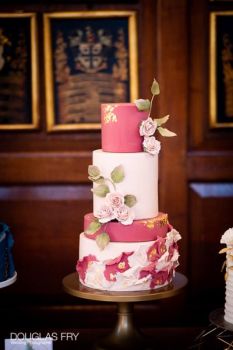 Gone are the days when the cake was white by default. There are no rules as to what colour your cake can be so any tones that are cropping up on our walls or in our wardrobes naturally move to wedding decor and begin to appear in the world of cakes. Pinks are still popular this year but they are being joined by nude, burgundy and spice shades along with beautiful ochres.
Trend Number Four
Unusual flavours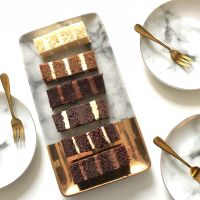 With each year that passes, I find that couples get more and more adventurous in their flavour choices. I already have some less usual flavours on my menu with my Most Curious (Pink peppercorn and rhubarb) proving extremely popular. I have been experimenting with Black Tea, Star Anice Spiced Blackcurrant and Honey as a potential new flavour and I want to try out a mastitha cake to evoke memories of the desserts I have had in Greece. I am certainly not alone as my colleagues in the cake world are all coming up with deliciously out there flavour combinations so, whilst you can still add in some fruit cake or vanilla to please an older generation, you certainly don't need to feel limited to the classics.
Trend Number Five
Unstructured sugar flower arrangements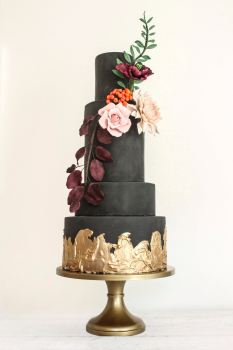 Sugar flowers often naturally follow floristry trends. As florists become more and more innovative and free with how they arrange flowers and move further away from conventional, structured work so the flowers on cakes too are becoming looser and wilder. Symmetrically perfect roses give way to drooping leaves and petals that look ready to fall.
So all in all, 2019 looks set to be a really exciting year in the cake world and I hope that this has given you a little window into what we are going to see as the year progresses.